One of the best things about living in a new place is getting to slowly explore it, by whatever means that may be – pub crawls, brunch tours, beach trips, meetups, train rides or something else altogether. I've had an interesting past week, in terms of getting to know the feel of the city, to feel like I'm a part of it. When I was in China, it was hard to really feel like a part of the city because:
a. I spent most of my time at the university

b. I was white. And tall. And blond. I stood out a bit.
At the same time, it happened. It always happens. I still think of China as my second home. The experience absolutely changed the way that I look at myself, and therefore the world.
But back to more mundane things – my week. Randomly at 6am on the train as I was going to the gym for my early early (read: before it was light out – in the autumn) yoga class, some guy tried to hit me up on the train.
For my number slash a date, not money.
I humored him because I didn't get to my headphones in time and I didn't have the energy to actively ignore a person that early in the morning. I bowed out and was able to give him my work email rather than my phone number as we talked about what I did and he mentioned he was looking for something along those lines for his business.
I smiled wanly as I left the train thankful I wasn't on the train for any longer on the same line and went to my yoga class, doing my best to center from that weird, weird, experience.
I also went to like, 4 bars in Surry Hills. On the same night! Which barely ever happens. A number of my coworkers and I were hanging around the office late playing Xbox (in the case of the boys) and having a debate on what constitutes feminism (in the case of the girls).
It was Friday, so we figured we might as well go out relax a bit after a tough first week of the month. We went to Tio's, The Wild Rover, Hollywood Hotel and Cliff Dive – all, save Tio's, were new to me.
At Tio's I finally had the legendary "Special" which was refreshing from the cucumber and quite good – I could see it being really dangerous on a night when I spent more time there. I don't know if that would happen though. Tio's was not the kind of bar atmosphere I would spend an entire night at . It gets too crowded and rowdy, as much as I love the free popcorn, I blame the tequila for the rowdiness.
The Wild Rover, on the other hand, I loved. It was still busy, but in a quieter pub kind of way. I know that comparison is in direct contradiction with itself, but deal with it. You know what I mean. Maybe it was the candlelight or the childrens-book-esque jungle scenes on the walls, or the really good drinks, but I would totally go back there and blow all my money on $18 cocktails.
Yes. $18. The drink I got, the Rhubarb, was totally worth that pocket change. Apple juice, a squeeze of lemon, vodka, strawberry and vanilla compote. Sounds like an adult apple juice with a twist, and tastes just a good as it sounds.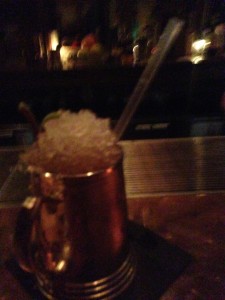 The Hollywood Hotel is, well, the Hollywood Hotel. Small and a bit seedy, it didn't leave much of an impression, save that one of the gang won $50.
We ended up at the Cliff Dive, which apparently does some great mojitos (though I can say I've had better). I don't know if they were trying to induce a rave-like feel, but there were folks walking around giving out free candy. Was a bit weird.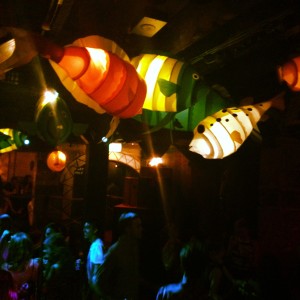 And then I went to brunch in Petersham on Saturday. Action packed weekend right there. The only thing that I was missing for the trifecta of awesome was heading to a new beach on Sunday, but alas, I was a homebody and went to the local library instead.
There's nothing quite like getting to know a city slowly, creating habits, breaking them and finding new places. I had my entire life (well, 25 years of it) to get to know New York City, and the city feels like home. I've bled on the concrete, slowly relented and did a few of the touristy things, had my feet scorched by pavement through high heels in a Manhattan city summer, wandered around the snowy winters) and always (always) laughed at the tourists.
And now I'm finding my way in a new city, making it familiar ground.