The first weekend of February was an eventful weekend for me, I surprised myself by making plans and keeping busy, getting out of my apartment. Sad that a planned lunch and a day at the beach is a big deal but I'm too much of a hermit not to make a big deal out of it.
With the Chinese New Year at the end of January, it only seemed appropriate to get yum cha (dim sum to everyone in the States) that weekend and I had a last-minute opportunity to do so with my friend. I was going to do a mahjong lunch in Surry Hills, but it was booked solid, so my Saturday was wide open when I got a serendipitous text from my friend about yum cha at Marigold the next day.
It was a good time – it made me feel like I was in China again, all the carts, the noises, the food. There were some dishes that weren't familiar – I had actually never had mango pancakes before, and there were some jiaozi-like dishes that were quite yummy but unfamiliar.
I wanted to break out my Mandarin that I remembered (as most of it was food related), but everyone was speaking Cantonese, and my friend speak it, so I sat back and ate until I was stuffed.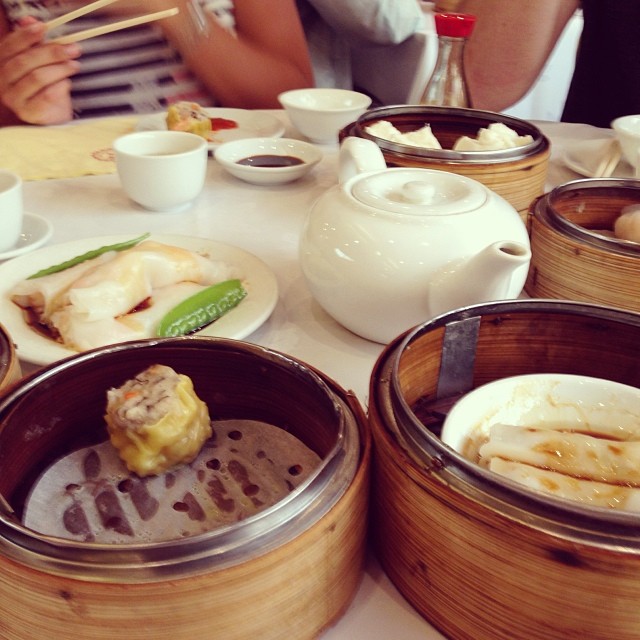 After yum cha on Saturday I needed a non-stuffing-my-face relaxing day, so I decided to hike out to Tamarama beach. It was a long journey for me to get out there. Went to Bondi Junction station and then grabbed the 361 bus. Took about an hour all-told from across the bridge.
It was worth it, though. Tamarama beach is quite pretty. And as I'm not a sit out and sunbake type person and I was also light on sunscreen, nor did I bring an umbrella, I was fortunate that I went to Tamarama, as I "hiked" out over the cliffs on the northern shore and found a shady, comfortable perch from which to read, where I sat and plowed through about 500 pages of The Goldfinch by Donna Tartt.
Tamarama may have been worth it, but I'm not sure The Goldfinch was worth the $35 I paid at the bookstore for it.