The approach to Puno from the airplane seemed to be a continual flight up rather than the traditional 'you go down to land' expectation. Though the descent did occur, of course, it took a bit of a different way than expected. The result of traveling 12,000 feet (3.8K) in less than 2 hours, I guess.
Puno I liked because it was small, friendly and 'had character.' By that I mean it was in many ways what you expect a small town in Peru to be like: cute square with an old church, tile and stone paved one-way roads, lots of pedestrian walkways, and the tourist-trap restaurants where if you want to get pizza you can.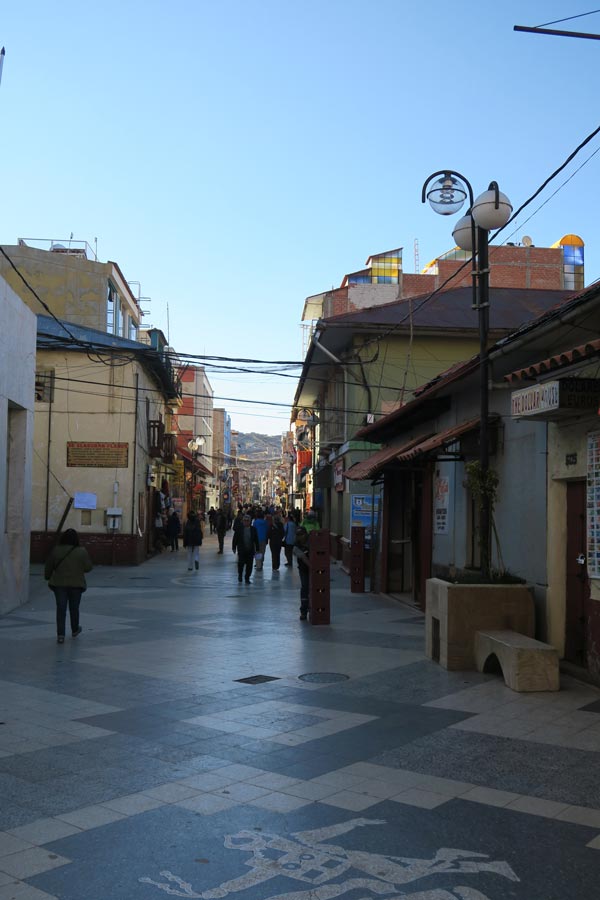 The place we stayed was pretty much right next to a market – where you could get everything from clothing to local cheese to pigs head – yes it was that kind of market. Where you're reminded that most of the rest of the world uses the entire animal and a lot of the Western world has become rather squeamish about eating meat other than the 'pretty' parts, or being reminded their food has a face. So I won't include one of the pictures I took of a nice little lady butchering an animal. Yup.
For most of us, in Puno we all felt a bit shitty. Headaches or stomachaches or general malease. It was our first city at altitude. I think one night for dinner I had Coke and Oreos. Really healthy of me, but I needed both the sugar and the general kind of plainness of biscuit.
Due to the general crappiness of feels the first few days in Puno, our dinners were generally places with large menus that included more Western fare, like pizza. So while some did opt for more local fare like alpaca (which is actually a rather lean meat and quite good, kind of a cross between beef and lamb) some went for the 'za.
When we headed off for our overnight to tour Lake Titicaca, we went to the port (which wasn't that far away) by bike rickshaws. I was with one of the guys on the tour, and our driver was a bit older. We were cheering him on by the end because we were lagging behind the group and he was definitely puffed dragging the two of us along. Felt a bit bad for the guy, to be honest. Couldn't do much to help though – no way to magically make us lighter or create a motor to help push us along or anything.
Prices in Puno are relatively reasonable, and when it comes to souvenirs, probably less expensive than Cusco, Ollantaytambo, especially for woven goods like hats, scarves, jumpers and other knits.
If you're wondering whether to put Puno and Lake Titicaca on your itinerary, please do. Peru isn't just all about the Inca Trail, and the this whole experience reminded me of that.