I know I'm late to the game and Cinco de Mayo was yesterday, but I wanted to share with you some of my most interesting international drinking experiences. I'm not a big drinker, but I'm not a teetotaler, either…I went to college. There have definitely been moments during my travels where I have gone balls to the wall and gotten pretty sloshed. But a few of my more memorable moments:
Pub Crawl, Berlin
I will always advocate staying with small hostels over chain hostels over hotels…and this is one of the reasons why. When I was in Berlin in the summer of 2010 I stayed with the good folks running the Raise a Smile hostel and they did a great pubcrawl with us in a great area – Friedrichshain. (Unfortunately, the hostel is currently closed, but you can help them raise money for their efforts in Zambia through their charity).
I remember going to at least…five different bars? There was tequila, absinthe, ping pong and drinking at Dr. Pong, a place that had action figures on the walls and then the beach bar. Yup, those all existed in Berlin, and it was a damn good time.
This was the first time I was introduced to tequila shots with orange and cinnamon, not salt and lime – and it was a really interesting combination. It worked, and that was because the tequila was smokier, or darker or richer or something. Whatever. It was good. I am one of those rare females that actually likes tequila and doesn't have some sort of horrible, scarring memory of frat parties gone bad associated with the liquor.
I had an amazing time, and it was a great way to see Berlin nightlife without worrying about getting lost stumbling through unknown streets.
Baijiu, China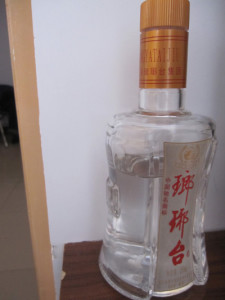 I have nightmares about this liquor. It's nicknamed the "white ghost" for a reason. Because you don't remember shit when you drink it, and Chinese men drink it by the glass. I lived in China for a year, and as a perpetual guest, whenever I went out with a mixed crowd, people wanted to do three things: feed me, give me cigarettes, and drink me under the table. I got to the point where I could delicately refuse drinking the "wine" because I was a woman, but there were some nights where I still indulged.
One of those nights I was out with one of the Chinese language teachers of the University, Mandy, and her male friends. For those of you that have never had the opportunity to try the liquor…it's old man vodka, vodka times ten. It's potent and hits you like a sack of bricks. My experience that night was…memorable. Between various toasts and much mantou, I drank an entire glass of the stuff…and then promptly swayed to the bathroom (not Western style) and kissed porcelain
As a good guest, when I came back I attempted to puke and rally, but failed miserably. After that point, I couldn't get a whiff of the stuff without dry heaving a little bit. Luckily, I was only in China for another few months at that point.
Snake Liquor, Vietnam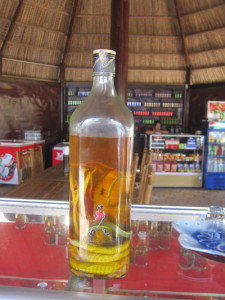 This was one of the more memorable experiences I've had for many reasons, the first of which being….it was the first time I ever took a shot with my dad.
Secondly, the shot was offered to us when we were taking a tour of the Cu Chi tunnels, between the actual tunnels and the firing range nearby. Listening to the gunshots after hearing about all the various ways the Viet Cong found to kill the American forces, taking a shot only seemed appropriate. And if it had a snake in it, even more so!
I can't remember the taste of the stuff, other than the burn down the back of my throat…but I do remember the snake in the bottle, and taking a shot of it in the jungle.
We've all had our drinking horror stories, great memories, and a few nights that we're glad we don't remember, but a toast is always a great way to meet people, whatever language you may be speaking in any part of the world.