I am a member of a generation in the United States that does not, luckily, immediately associate Vietnam with war. My parents are a different story. I remember hearing from my mother about her classmates and their receipt of their draft letters – how so many often remarked, 'if only my mother had me a day later.' I also remember my family friends being some of the first travelers granted visas to Vietnam after the ceasefire.
I went to Vietnam in January 2010, meeting up with my parents during the winter holidays when I was teaching in China. I will say this – whatever your feelings on Vietnam and the war, give the country, and it's people, a chance. It's a beautiful place.
My parents arranged the trip in Vietnam (and our continuation into Cambodia) through a travel company we've used since called Sita. While there were a few inter-country flights, we also had a decent amount of driving to see the countryside.
All told, our itinerary in Vietnam was:
Hanoi
Halong Bay
Hue
Hoi An
Danang
Ho Chi Minh City (formerly Saigon)
Of where we traveled in Vietnam, I would say I much preferred Hoi An and Hue than either of the major cities.
We arrived in Hanoi (in the North) and one of our first excursions was to Halong Bay, which is now a UNESCO World Heritage site.
I would almost say the boat ride out to the Thien Cung Cave was more enjoyable and beautiful than the caves themselves:
The actual cave was, rather than appreciated for it's natural beauty, turned into a light show with fluorescent lights illuminating the stalagmites and stalactites, with the artifice of having a 'dragon' living within. It was a lot of unnecessary pomp and pageantry for a location I'm sure looked lovely naturally.
My personal opinion: if you're heading out to Halong Bay, opt for a cruise around the bay rather than a tour which includes the caves; you'd be wasting your time and money.
From Hanoi, we moved on to Hue. Hue was an interesting place for a number of reasons, not in the least because it was the imperial capital and has the ghosts of palaces within and around it.
Perhaps it's because I've grown up Irish and in an (extended) family of funeral directors, but I've always been fascinated by time and things (or dynasties) rising and collapsing, crumbling under our fingers. We all are, to an extent and I could really feel it there in Hue, amid the ruins.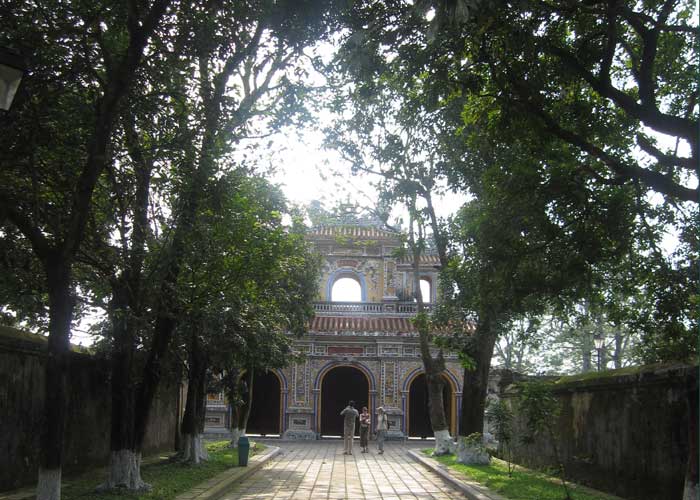 I really don't remember spending that much time in Hue, so I think we must've only passed through to walk amid the ruins before continuing on to Hoi An.
If you don't know a lot about the history of Vietnam before the war, here's a little factoid – they were, for a long time, French IndoChina. Thus, a lot of Vietnamese food is bread or baguette heavy. Blame (or thank) the French. I feel like when it comes to baguettes and bread products you have to thank the French, but colonisation, not so much.
Hoi An deserves more attention so I'll give that it's own post over the next few days, for now, though. Go to Vietnam. You won't regret it.